---

---
Biography
1966 - 1969
January 1966
MGM extendes his contract for four more movies. Plans were made to add what is now the trophy room onto the house as the slot-car tracks are now large. On January 22, 1966, Elvis and Priscilla along with their friends build a huge snowman on the front lawn.
February - April 1966
Elvis records the soundtrack music and shoots his twenty-second motion picture, Spinout, co-starring Shelley Fabares. Renews his interest in music, buys a great deal of new equipment and, along with Red and Charlie, spends his free time working onm usic at home. He is especially interested now in folk music. He has purchased a Greyhound bus and it is being customized by George Barris.
March 30, 1966
Frankie and Johnny opens nationally and doesn't do particularly well. The soundtrack album goes to number twenty.
May 25, 1966


Elvis meets his new record producer, Felton Jarvis, and begins working on what will become the album "How Great Thou Art." Also during this session he is especially enthusiastic about working with one of his mentors Jake Hess and his group The Imperials.
June-September 1966
Soundtrack recording and shooting for Elvis' twenty-third motion picture (to be the twenty-fourth released), Double Trouble.
July 6, 1966
Paradise, Hawaiian Style is released and doesn't do well. It ands at #40 for the year. The soundtrack album peaks at number fifteen while the single "Love Letter" ahs made it to #19 on the charts.
July 12, 1966


Col. Parker turns down a Japanese movie deal saying that Elvis is booked through 1969.
August 30, 1966


Not waiting until the end of 1967, RCA goes ahead and picks up its option to extend Elvis contract until 1974.
September 1966 - November 1966
Soundtrack recording and filming for Elvis' twenty-fourth motion picture (the twenty-third to be released), Easy Come, Easy Go.
September 21, 1966


Elvis signs a lease on a Palm Springs house at 1350 Ladera Circle.
November 23, 1966
Spinout opens nationally and is #57 for the year. The soundtrack album goes to number 18. elvis is the tenth-highest-paid star for the year.
December 1966
Elvis' interest in horses becomes serious by Dec. 5 purchasing riding clothing and equipment, and on Dec. 20 he buys Priscilla a horse for Christmas. He will also formally propose marriage just before Christmas presenting her with a ring.
February 8,1967
Elvis buys a 163-acre ranch in Mississippi, minutes across the Tennessee state line from Graceland for $437,000. He and his entourage and their wives had become interested in horseback riding after Elvis purchased a horse for Priscilla as a gift. The hobby had outgrown the pasture at Graceland. Over the months to come, Elvis and the gang will enjoy spending a lot of time at the Circle G. It becomes a happy diversion for Elvis as his frustration and unhappiness over the state of his career reaches its height.
RCA releases Elvis' second gospel album, How Great Thou Art, which was recorded in mid-1966. It gets very good reviews and goes on to earn Elvis the Grammy Award for Best Sacred Performance from the National Academy of Recording Arts & Sciences. This is the first of his three Grammy wins.
March 22, 1967
Easy Come, Easy Go opens nationally and is #50 for the year.
March-April, 1967
Soundtrack recording and filming for Clambake, Elvis' twenty-fifth movie. It is the third of three Elvis movies to co-star Shelley Fabares.
April 5, 1967
Double Trouble opens nationally. Although better than some of his recent screen efforts, it is #58 for the year.
April, 12 1967


Ironwork is added to Graceland windows and doors.
May 1967
On May 1, Elvis and Priscilla are married in a private ceremony amongst a small group of family and friends at the Aladdin Hotel in Las Vegas, just after 11:40 AM. A press conference and breakfast reception follow. The couple honeymoon for a few days in Palm Springs. Then they return to Memphis.
May 24, 1967


Elvis and Priscilla celebrate her 22nd. birthday.
May 29, 1967
Elvis and Priscilla dress in their wedding clothes and have a second wedding reception in the trophy room at Graceland to accommodate family and friends who were not in Las Vegas for the wedding.
June 10 -June 15, 1967


On the way to Hollywood all the guys and their wives caravan stopping on the way to sight- see at Grand Canyon per home movies.
June - August 1967
Soundtrack recording and filming for Elvis' twenty-sixth movie (to be the twenty-seventh released), Speedway, co-starring Nancy Sinatra. During the production, news of Priscilla's pregnancy is announced.
September 29, 1967


Memphis Mayor William Ingram and TN Governor Buford Ellington each declares "Elvis Presley Day" in recognition of Elvis many charitable contributions. Elvis will name one of his horses Mare Ingram in the mayor's honor.

October-November, 1967
Soundtrack recording and filming for Elvis' twenty-seventh movie (to be the twenty-sixth released), Stay Away, Joe. In this western-themed comedy he once again plays a character who is part Native American. It's a real departure from the virtually interchangeable plots and characters in most of the films over the past several grueling years. He has fun with this one.
October 26, 1967


Priscilla and several other wives and girlfriends of the entourage will travel to Sedona, Arizona to visit the set of Stay Away Joe.
November, 1967


Interest in the Circle G ranch has led to selling off equipment. November 4, 1967 Vernon holds an auction at the ranch.
This month, Elvis and Priscilla will buy their first home in Beverly Hill at 1174 Hillcrest, for $400,000
November 22, 1967
Clambake is released nationally and goes to number fifteen at the box office. The soundtrack album goes to number 40.
January 12, 1968


NBC vice president Tom Sarnoff announces an Elvis Christmas TV Special,his first TV appearance since 1960.
February 1, 1968
Priscilla gives birth to Lisa Marie Presley nine months to the day after her marriage to Elvis. It is a time of great happiness.
March 8, 1968
Stay Away, Joe opens to mixed reviews and was #65 for the year. It does, hoewever, makes a profit.
March - May, 1968
Soundtrack recording and filming for Elvis' twenty-eighth movie, Live a Little, Love a Little. It is a sexy, more adult kind of comedy/ melodrama. It, like Stay Away, Joe is a real departure from the typical Presley film. It is yet another breath of fresh air.
April 8, 1968


Elvis is deeply distressed by the assassination of Dr. Martin Luther King. Elvis has been a long-time admirer and often quotes his "I Have A Dream" speech.
June 6, 19668


Robert Kennedy will also be killed. Elvis' thoughts and feelings on the losses of both Dr. King and Robert Kennedy will eventually lead to a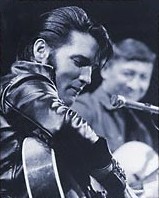 song being written for him to sing in his upcoming TV special.
June 12, 1968
Speedway is released nationally and is #40. The soundtrack album goes only as far up the chart as number 82.
June 3, 1968
Elvis rehearses for the taping of his first television special. A press conference is held on June 25th. Videotaping is done June 27, 28, 29, and 30. Commonly referred to as The '68 Special or The '68 Comeback. the actual name of this landmark television special is Elvis.
The sixties have brought about great change in music and pop culture. Change for which Elvis helped pave the way over a decade earlier when he exploded onto the scene with his unique blending of pop, rock, country, R&B and gospel influences. Focusing on his Hollywood movie career in the sixties, Elvis has become less a part of the current pop cultural scene. He has been making one movie after another, and many of the records he has put out in these years have been movie soundtrack albums. In the fifties and early sixties, the films and film-related records were wonderfully successful, but as the sixties have worn on, the movies and records, though still profitable, have not been nearly so successful as they were before. Elvis has reached the supreme level of frustration with the state of his career and all its limitations on his creativity and artistic expression. He had hoped to become a serious actor, but Hollywood had other ideas and Elvis went along with them. His opportunities to show his true talents as an actor have been few. He is beyond ready for a change. By now, it has been more than seven years since Elvis has appeared in front of a live audience. Elvis has missed the closeness of his audience, the energy and excitement of live performing.

The '68 Special opens with Elvis singing a hot new version of the gutsy "Trouble", from his 1958 film King Creole. This segues into Guitar Man, which, with its semi-autobiographical lyrics, becomes the underlying theme of the show. Then, Elvis is reunited with two of his original fifties band members, guitarist Scotty Moore and drummer D.J. Fontana. (Bass player Bill Black has been deceased for several years by this time.) They sit together on stage in the round, along with several other friends and associates of Elvis for an informal session of singing, jamming, and swapping stories. Parts of this jam session are woven throughout the show. There are also sequences of Elvis taking the stage alone and performing many of his greatest hit rockers and ballads, and he introduces a new song, Memories.

One can surmise that he pours out years of career frustration and pent-up creative energy into the performance of these songs. His natural talent, charisma, sensuality and stage presence have not been diminished by the years in Hollywood. In fact, he looks, sounds, moves and grooves better than he ever has. At 33, he is better than he has ever been. Better than anybody in the business. For the group jam session segments and solo stage performances Elvis wears a two-piece black leather outfit specially designed for the show by Bill Belew, who also designed all the other wardrobe Elvis and the cast wear in the show. The look evokes the era of James Dean and the Marlon Brando type motorcycle films of the fifties, the era when Elvis was first proclaimed the King of Rock 'n' Roll.
In one of the jam session segments, Elvis speaks of the gospel origins of rock and roll. This segues into the gospel music portion of the show, which has Elvis wearing a two-piece burgundy suit, singing "Where Could I Go But to the Lord," "Up Above My Head" and "I'm Saved," backed by the female vocal group, The Blossoms, and accompanied by a troupe of dancers - all of this for a rousing gospel production number.
Toward the end of the special Elvis appears in a lengthy production number that, through song, dance, karate, and various situations, traces a young man's journey from a struggling guitar player, through the challenges, dangers and compromises on the path to his dreams of success and superstardom. Something is lost along the way. Once the dream is achieved, the man realizes that he remains unfulfilled, that he has abandoned his true self. He decides to return to his roots, doing what made him happiest, what he does best. He sings "I'll never be more than what I am... a swingin' little guitar man." The parallels to Elvis' own life are clear and deliberate, and his doing the '68 special represents his own return to his true self, to his roots. Free from the confines of his Hollywood grind, this is Elvis the singer, the performer, the musician, the man - the real Elvis.
At the end of the special, Elvis appears alone wearing a simple white two-piece suit, standing in front of the towering backdrop of red lights that spell ELVIS. He sings a brand new song, "If I Can Dream," especially written for the show. The writers created the song based in part upon conversations with Elvis about his own thoughts on what was happening in the turbulent sixties. It seemed appropriate that he close the show with some sort of personal statement. His powerful and passionate performance of this song of hope for mankind is one of the most brilliant moments of his singing career.
July/August, 1968
Elvis records the theme and does filming for his twenty-ninth movie, Charro!, a dramatic western, again a very different kind of role. Elvis grows a beard for this. The theme song will be heard over the opening credits, but there will be no other Elvis songs used. This will be the first and only film in which Elvis does not sing on camera.
October - December 1968
Elvis records the soundtrack and does filming for his thirtieth movie, The Trouble with Girls (and How to Get into It). He sings in this one, but in very natural situations for a change. It is yet another film quite different from the typical Elvis films.
Live a Little, Love a Little opens in the U.S. in October and doesn't do very well.
"If I Can Dream," from the soon-to-be aired '68 special hits number 12 on the pop singles chart in November, making it Elvis' biggest single since 1965.
October 23,1968


Live A Little, Love A Little opens.
November 1968


"If I Can Dream" is shipped and is #12. "Elvis" LP is shipped and will hit #8.
December 3, 1968
Elvis, the 1968 TV special, first airs on NBC-TV and is the biggest television hits of the year, receiving 40% of the viewing audience, rave reviews from the public, and the critics alike. The soundtrack album goes to number eight on the pop chart. Reviewing the show, rock writer John Landau says:
There is something magical about watching a man who has lost himself find his way back home...He sang with the kind of power people no longer expect from rock 'n' roll singers.
Years later, rock writer Greil Marcus will remember it this way:
It was the finest music of his life. If ever there was music that bleeds, this was it.
Elvis, the 1968 TV special, is to become widely regarded as one of the truly great television moments in pop/rock music history. After this show everything changes for Elvis. He pours renewed creative energy into his recording work, is soon to wrap up his movie contract obligations and to return full-time to the concert stage, beginning a new and exciting era of his career. His superstardom is yet to reach its height.
December 1968
Elvis wraps shooting on The Trouble with Girls on December 18. The International deal is accepted on December 19. This will be Lisa's first christmas and Vernon will dress up as Santa.
January/February 1969
Elvis has been doing all of his recording work in Nashville or Hollywood since signing with RCA. But, now he records in Memphis again for the first time since 1955. He has all-night marathon sessions at American Sound Studio. His work here will become regarded as some of the finest music of his career, his best work since the innovative days at Sun and the exciting early days at RCA before he went into the army. Elvis has excellent material to choose from and pours his heart and soul into the sessions. He works with a lot of top-notch Memphis musicians. The sound is fresh and gutsy. On every track one can sense his creative excitement and energy. This is joyful work after years of movie boredom. Two albums will result from these sessions. The sessions will also yield four hit singles to be released starting later this year and going into 1970: "In the Ghetto", "Suspicious Minds", "Don't Cry, Daddy" and "Kentucky Rain".
February 1, 1969


They spend Lisa's first birthday in Aspen, CO.
March/April 1969
Elvis returns to Hollywood to film and record the soundtrack music for his thirty-first, and what will turn out to be his last, acting role in a motion picture. It is Change of Habit, co-starring Mary Tyler Moore. Elvis plays a hip ghetto doctor in a Northern city, having come from Tennessee. Mary Tyler Moore and two others play nuns who go "undercover" into the ghetto to assist with health and societal troubles in the community. The theme, though serious and timely, is not particularly well carried out by the script in the opinion of many, and the title is frivolous. But, Elvis looks magnificent, and gives a natural, easy, understated performance that is a refreshing pleasure to see after the silliness he endured in his films through most of the sixties. The few songs in the movie are good and they're performed in natural, rather than the usual badly contrived, situations.
March, 1969
Charro! opens in theaters and doesn't do much at the box office.
May 1969


Elvis and his family and friends vacation in Hawaii. Circle G is sold for $440,000
July, 1969


Elvis is working on his song list and putting together his band for the International Hotel.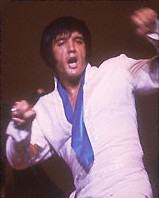 July 10, 1969


Elvis obtains the easement from the church next door for a back driveway.
July 31 - August 28, 1969
Elvis is booked for a four-week, fifty-seven show engagement at the International Hotel in Las Vegas, which has just been built and has the largest showroom in the city. Elvis puts together top-notch rock and roll musicians, an orchestra, a male gospel back-up group, and a black female soul/gospel back-up group for his show.* They rehearse for several weeks and open on July 31, 1969. The show is a delightful mix of fresh arrangements of classic Elvis hits, exciting new material he has recorded, a few covers of current and past hits of other artists, and charming on-stage antics and sharing of personal recollections of his career. A press conference follows the first of his two opening night shows.

This engagement breaks all existing Las Vegas attendance records and attracts rave reviews from the public and the critics. It is a triumph. Elvis' first live album, Elvis in Person at the International Hotel, Las Vegas, Nevada, is recorded during this engagement and is soon released. Elvis' opening night is so successful that Col. Parker renegotiates his contract on a tablecloth in the hotel's coffee shop. Elvis will also receive a gold best from the hotel for his championship attendance.
For these shows a lean Elvis in top physical form, wears simple, unique, karate-inspired two-piece outfits in black or white. These are designed by Bill Belew, who did the wardrobe for the '68 special. These are the predecessors to the famous one-piece jumpsuits which will be simple at first, then become flashier and more elaborate over the years.

Here are a couple of reviews from music writers:
"There are several unbelievable things about Elvis, but the most incredible is his staying power in a world where meteoric careers fade like shooting stars."
- Newsweek ,
-8-11-69 issue.
"...a style and panache that come close to pure magic. Lithe, raunchy, the sweat pouring down his face, he now moves with the precision of an athlete, the grace of a dancer...flamboyant and flashy, sexy and self-mocking, he works with the instincts of a genius to give poetry to the basic rock performance."
- W.A. Harbinson
- From his 1975 book, The Illustrated Elvis. A passage reflecting on Elvis' 1969 Vegas engagement.
*NOTE: The orchestra was conducted by Bobby Morris. The band consisted of James Burton (lead guitar), John Wilkinson (rhythm guitar), Jerry Scheff (bass guitar), Larry Muhoberac (piano) and Ronnie Tutt (drums). The female singers were The Sweet Inspirations. The male singers were The Imperials. Charlie Hodge provided additional guitar and vocals and general on-stage assistance. Over the concert years there were changes in the show cast. Joe Guercio became Elvis' conductor. Millie Kirkham, who had worked on Elvis' studio recordings, joined the show as soprano, a position later taken over by Kathy Westmoreland. Glen D. Hardin became the piano player. J.D. Sumner & the Stamps Quartet became the male back-up group. Various other personnel changes occurred over the years.
September 1969
The Trouble with Girls, Elvis' thirtieth movie, opens in theaters and doesn't do much at the box office. From the American Sound Studio sessions RCA releases "Suspicious Minds", which will soon become Elvis' first number one single since "Good Luck Charm" in 1962, and will be his last number one pop single, though he'll have many big hits.
November 11, 1969
Change of Habit, Elvis' thirty-first movie, opens in theaters and it will be on Variety's Box Office Survey for four weeks, peaking at #17.

---
This site is best viewed at 1024x768 pixels