Late January- Early March, 1958


Elvis films and records for his fourth motion picture, King Creole.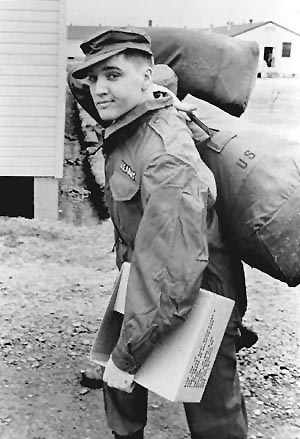 March 24, 1958


Elvis Presley is inducted into the U.S. Army at the Memphis Draft Board and is assigned serial number 53310761.
March 25, 1958


Elvis gets his famous G.I. haircut at Fort Chaffee, Arkansas.
March 28, 1958


Private Presley arrives at Fort Hood, Texas for basic training and is stationed there for six months.
June 10, 1958


After basic training, while on his first leave, Elvis has a recording session, his last until 1960. Among the songs recorded was "A Big Hunk O'Love."
June 20, 1958


Elvis' parents soon move into a temporary trailer near the Army base at Fort Hood, Texas. They move into a house on July 1.
July 2, 1958


King Creole, Elvis' fourth motion picture opens nationally and the reviews are the best he will ever have for his acting. Its impressive list of co-stars and supporting cast includes Carolyn Jones, Walter Matthau, Dean Jagger and Vic Morrow. It becomes a top five film at the box office. This Michael (Casablanca) Curtiz-directed movie, set in New Orleans and based upon the Harold Robbins novel, "A Stone for Danny Fisher," will come to be regarded as Elvis' finest film, his greatest acting performance, and proof positive of his potential to have become a respected serious actor, though the realization of this desire will remain forever out of his grasp.
August 8, 1958


Gladys Presley becomes ill and returns to Memphis via train to be hospitalized with acute hepatitis. Elvis is granted emergency leave and arrives in Memphis on the afternoon of August 12th. He visits her that night, and the next day and night. A few hours after Elvis goes home to Graceland to rest, she dies in the early hours of August 14 at age 46. Her body lies in state at Graceland that afternoon. Services are at the Memphis Funeral Home on the 15th, with the Blackwood Brothers singing "Precious Memories" and "Rock of Ages," two of Gladys Presley's favorite hymns. She is laid to rest at Forest Hill Cemetery, a few miles down the road from Graceland. Elvis is devastated.
August 24, 1958


Elvis reports back to Fort Hood.
September/October 1958


September 19, Elvis boards a troop train to New York, later boards the USS. Randall and sails to Germany, arriving on October 1. He will be stationed in Friedberg for 18 months, maintaining an off-base residence in Bad Nauheim, shared with his father and grandmother, and some friends from Memphis. He finds the fans in Europe to be as enthusiastic as those in America.



January 8, 1959


Elvis is interviewed off-camera via trans-Atlantic telephone by Dick Clark on his American Bandstand show on ABC-TV. The show commemorates the star's twenty-fourth birthday. (Elvis never performed on American Bandstand.)
Later in January the family moves from a hotel to a rented house, and Elvis poses with actress Vera Tschechowa and the March of Dimes poster child.
Colonel Parker continues to keep Elvis' career alive with promotions and hit record releases.
March 3 – 5, 1959


On a three–day leave, Elvis visits Munich where he visits actress Vera Tschechow and the Moulin Rouge.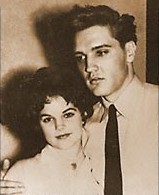 June 13 – 27, 1959


Elvis visits Paris via Munich visiting clubs in Paris and Munich, which includes a visit to the Lido.
August 15, 1959


Captain Joseph Beaulieu is moves from Texas to Weisbaden Air Force Base near Friedberg, Germany accompanied by his wife and children, including his fourteen-and-a-half- year-old stepdaughter, Priscilla Ann. (Priscilla is the only child from Ann Beaulieu's marriage to her first husband, James Wagner, a Navy pilot who was killed in a plane crash when Priscilla was an infant.)
September 13, 1959


Through a mutual friend, Priscilla is invited to a party at Elvis' home soon after her arrival in Germany. They meet, and the rest is history.
January 8, 1960


Second phone interview with Dick Clark. Birthday party for Elvis includes 200 invited guests including Priscilla. Joe Esposito and others present him with a tropy inscribed "Elvis Presley. Most Valuable Player. Bad Nauheim Sunday Afternoon Football Association, 1959."
January 12 – 17, 1960


Second leave to Paris with his karate instructor Jurgen Seydel to study with Japanese karate teacher Tetsuji Murakami. He takes lessons every day in the shotokan technique.
January 20, 1960


Elvis is promoted to Sergeant. He leaves on maneuvers on the 24th. and will get his full sergeant's stripes on Feb. 11, 1960.
March 1960


Elvis leaves Germany on March 2, 5:25pm, arriving in New Jersey the next day for a press conference, and is officially discharged from active duty on March 5, 1960 at 9:25am. He boards a train for Memphis, arriving on March 8. Press and crowds of fans are everywhere for this historic series of events. He holds a press conference at Graceland in his father's office behind the mansion on March 8.
He has served his country just like any other GI, with no special privileges his celebrity status might have afforded him. These two years away from his career have been a time to mature. He has also worried constantly that his lengthy absence might have damaged his career progress. But, he has yet to see his greatest stardom.
March 20, 1960


Elvis has his first post-army recording session. Some of the recording work is for the album Elvis is Back!, which will hit number two on the Billboard pop chart. The album included the single "Stuck On You" which was rushed to the pressing plant and packaged in a generic sleeve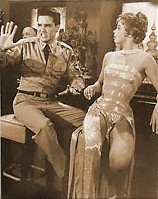 without waiting for orders. Debuting at #84, it took only three weeks to hit #1. (Sessions will continue in early April.)
March 26, 1960


Elvis tapes a special "Welcome Home, Elvis" edition of Frank Sinatra's ABC-TV variety show, for which he is paid $125,000, a record sum for a variety show appearance at the time.
April 21, 1960


Elvis begins filming and recording for his first post-army movie, his fifth film, GI Blues for Paramount, the third of nine Elvis films to be produced (not consecutively) by Hal Wallis. GI Blues co-stars dancer/actress Juliet Prowse.
May 12, 1960


ABC airs Frank Sinatra's Welcome Home, Elvis edition of his variety show, which attracts a 41.5% share of the national television audience.
July 3, 1960


Vernon Presley marries divorcee and mother of three sons, Davada (Dee) Stanley, an American whom he met Germany, where she had been stationed with her military husband. They live at Graceland briefly, then move to a home nearby.
Jusly 21, 1960


On March 21 he receives his first degree black belt in karate, an interest he developed while in the army. Elvis carries the certificate in his wallet until his death.
August/September 1960


Elvis records and films for his sixth movie, Flaming Star, a drama with limited music. Elvis plays the son of a white father and a Native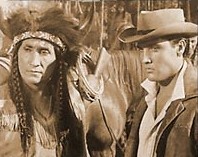 American mother, torn between the two cultures in the 1800's. The film co-stars Barbara Eden.
October 1960


The soundtrack album for GI Blues enters the Billboard album chart and soon goes to number one. It remains number one for ten weeks and stays on the chart for 111 weeks. It is to be the most successful album of Elvis' entire career on the Billboard charts. (GI Blues was the most successful album on the music chrats. However, Blue Hawaii was the biggest selling album during Elvis' life, selling 2 million copies in the first 12 months.)
November 6, 1960
Elvis begins recording and filming for his seventh film, Wild in the Country, which will be completed in January. GI Blues opens nationally on November 23 to warm reviews and big box office sales. It was #2 the first week and for the year on Variety's list. By 1969 Variety reports it had grossed 4.3 million equeal to The African Q. Wild In The Country is a light comedy melodrama with lots of singing by Elvis, who is seen in uniform for most of the movie.
December 22, 1960


Flaming Star opens nationally to warm reviews, but unlike GI Blues, this dramatic film with little singing does not set the box office on fire. It was #12 for the week. However, Elvis earns recognition from a tribal council for his positive portrayal of a Native American in this racially charged drama. The film is banned in South Africa due to its interracial theme.
February 25, 1961


Elvis appears in Memphis at a luncheon in his honor, and numerous recent awards Elvis has received are shown to the press and others attending. A press conference follows. Then, Elvis performs one afternoon show and one evening show at Ellis Auditorium to benefit around thirty-eight Memphis-area charities. Other than the Sinatra television show, these shows are, so far, Elvis' only live performances since his army discharge. "Elvis Presley Day" is proclaimed by Tennessee Governor Buford Ellington. Every year after this, Elvis donates money to a list of Memphis-area charities, eventually reaching fifty or more, usually around Christmas time. Within a few years, to show their appreciation the city gives him a massive plaque listing fifty charities.
March 25, 1961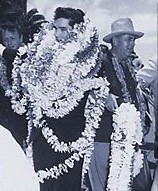 Elvis arrives in Hawaii for a press conference, then an evening concert at Bloch Arena at Pearl Harbor. He is there to perform a benefit to help fund the building of the USS Arizona Memorial. Hundreds of fans mob the airport as he arrives. His show raises around $62,000 for the memorial. The event also helps bring publicity and public awareness and support to the project. The fund-raising efforts, for the most part, had been difficult up to this point. The rest of the needed funds are soon raised, and the memorial is completed a year later. Elvis receives numerous official honors in appreciation for this benefit. This turns out to be Elvis' last live, non-movie performance until his 1968 television special.
Late March/Mid- April, 1961


Elvis remains in Hawaii to do location filming for his eighth motion picture, Blue Hawaii, having already done soundtrack recording. Later, there is additional filming to be done back in Hollywood for this film. With this second and longer visit, Hawaii would become one of Elvis' lifelong favorite places to vacation.
June 22, 1961


Wild in the Country, co-starring Hope Lange, Millie Perkins and Tuesday Weld, opens nationally to mixed reviews. Like Flaming Star it is a melodrama with limited singing by Elvis. It, too, does not set the box office on fire. Also in June the album "Something For Everybody" was shipped. It would hit the charts in July staying for 25 weeks and spending 3 of those weeks at #1.
July - August, 1961


Elvis records and films for his ninth motion picture, Follow That Dream. Filming includes some location shooting in Florida.
September 1961


Elvis spends the month vacationing in Las Vegas.
October, 1961


The soundtrack album for Blue Hawaii enters the Billboard chart for a year-and-a-half run, staying at number one for twenty weeks, second only to "GI Blues" as the biggest album of Elvis' career on the Billboard charts. It also yields a number two single destined to become an Elvis classic, Can't Help Falling in Love.
Scatter has joined the entourage at this point.
Non-movie-related recordings and hit records have continued through this period, with Good Luck Charm hitting number one in 1962, his last number one pop hit until Suspicious Minds in 1969.
October/November, 1961


Elvis records and films for his tenth motion picture, Kid Galahad, completing it on December 20, 1961.
November 22, 1961


Blue Hawaii opens nationally to warm reviews and in the short time left in 1961 hit #18 on the box office charts for the year 1961 and #14 for the year 1962. It becomes the top-grossing film of Elvis' career thus far. Its characteristics of a non-cerebral plot, lavish scenery, lots of songs by Elvis, and lots of pretty girls become the basis for the "Presley formula" movies of the sixties, though most of them will not be nearly so well done.
December 1961


Other than his time spent in the army, this is the only Christmas Elvis will spend away from Graceland. He will spend 12/22/61 – 1/29/62 in Las Vegas.
January 1962


Elvis has a new RCA contract that runs until 1966. He also celebrates his 27th. birthday.
March 12, 1962


Elvis Purchases a 1962 Dodge House Car complete with air conditioning, a double bed, two bunks and a kitchen. He plans to have George Barris customize it and to use it to drive back and forth to California.

May 23,1962


Follow That Dream opens nationally and gets to number five on the box office charts. It is warmly reviewed and does fairly well in sales.
March 26 - June 11, 1962


Elvis records and films in Hollywood, and does location filming in Hawaii for his eleventh motion picture, Girls! Girls! Girls!.
June 17 - July 1, 1962


The now 17 years old, Priscilla visits Elvis from Germany. It will be the first time they see each other since Elvis left Germany over two years before. They spend the time in Las Vegas.
August 28, 1962


Elvis records and films for his twelfth motion picture, It Happened at the World's Fair. Shooting is both in Hollywood and on location at the World's Fair in Seattle.
August 29, 1962


Kid Galahad opens nationally and does relatively well with a brief stay in the top ten on the box office chart.
October 1962


In Mexico, riot behavior in a theater showing GI Blues prompts the Mexican government to ban Elvis movies. Torn seats, broken windows, and other damage is reported.
November 11, 1962


Elvis is released when he finishes recording It Happened at the World's Fair.
November 21, 1962


Girls! Girls! Girls! opens and lands at on the #6 Variety chart and #31 for the year. Soundtrack album goes to #3 and the single "Return to Sender" hits #2. (In the year 1962 his movies are Blue Hawaii #14, Girls! Girls! Girls! #31 and Kid Galahad #37 for the year in box office.)
December 19 1962 - January 11, 1963


Priscilla visits Elvis for the holidays in Memphis.
January 21 - March 22, 1963


Elvis records and films for his thirteenth film, another "formula" movie, Fun i\In Acapulco. Priscilla moves to Memphis in early March 1963, while Elvis was in Hollywood filming Fun In Acapulco. She graduates from high school on May 29, 1963, five days after turning 18 years old on May 24,1963.
April 10, 1963


It Happened at the World's Fair opens nationally and does relatively well at the box office, though its plot is the most frivolous of any Elvis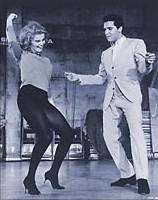 film so far. The soundtrack album hit #4.
July 1963


Elvis records the music, then, on location in Las Vegas and, in September at a Hollywood studio, he films for his fourteenth motion picture, Viva Las Vegas, co-starring Ann-Margret through September. (It will be his fifteenth movie to be released as Kissin' Cousins, which he is to shoot next, will actually be released before Viva Las Vegas.)
October 1963


Elvis records and shoots for his fifteenth motion picture, Kissin' Cousins. Elvis receives his 2nd Degree Black Belt on October 17, 1963 and carried the card in his wallet until his death.
Late November, 1963


Elvis was finishes filming Kissin' Cousins on November 14th. He was devastated When J.F.K. was assassinated on November 22nd.
November 27, 1963


Fun in Acapulco opens nationally and quickly goes to number five at the box office. The soundtrack goes to the top five on the pop chart.
January/February 1964


Elvis purchases the Potomac, former presidential yacht of Franklin Roosevelt, for $55,000 on January 30. He intends to donate it to the March of Dimes for use as a national shrine (FDR suffered from polio, the main disease fought by the March of Dimes). Costs of maintaining the yacht would be prohibitive, so the March of Dimes declines to accept the gift. Elvis attempts to give it to the 7th Coast Guard District Auxiliary in Miami, which also doesn't work out. Finally, on February 13 he presents the yacht as a gift to St. Jude Children's Research Hospital in Memphis for them to use to raise funds as they see fit. The ceremony takes place in Long Beach, California on February 14 with actor and hospital founder, Danny Thomas, accepting. "Kissin' Cousisns" is shipped this month and hit #12.
During this saga of trying to donate the yacht, the Beatles make their first appearance on The Ed Sullivan Show and Sullivan reads on the air a congratulatory telegram from Elvis and the Colonel. American music and pop culture will soon change dramatically with the "British invasion", much as it had after Elvis hit it big in the fifties.
Elvis has become bored and frustrated with his film and recording career. It will only get worse.
February 26-May 14, 1964


Elvis begins filming for his sixteenth motion picture, Roustabout, co-starring Hollywood legend Barbara Stanwyck.
March 6, 1964


Kissin' Cousins opens nationally. One of the poorest quality films of his career, it still quickly hits number eleven at the box office, then quickly falls, and the album hit #6.
April 30, 1964


Elvis meets Larry Geller and started his spiritual studying in earnest.
June 9 - August 3, 1964


Elvis records music for his 17th film, Girl Happy which co-stars Shelley Fabares and former Miss America, Mary Ann Mobley.
June 17, 1964


Viva Las Vegas opens nationally and goes to #14 at the box office. It's one of the better Elvis movies of this period, and the songs are better as well. by the end of the year, it is #11, outranking the Beatles A Hard Day's Night and becoming Elvis' highest grossing film ever.
September 21, 1964


Elvis became an official "Special Deputy Sheriff" for Shelby County. This position held powers and he was photographed and fingerprinted.
October 6, 1964


Elvis begins shooting his eighteenth motion picture, Tickle Me. The soundtrack has no new recordings. Instead, previously released non-movie recordings are used, apparently to keep production costs to a minimum. Filiming continued until November 24, 1964
November 1964


Roustabout opens nationally and hits number eight at the box office. The soundtrack, which represents some of the best Elvis movie music in a while, goes to number one on the Billboard pop album chart.Elvis was ranked as the sixth-biggest-money-making star of 1964. The single "Blue Christmas/Wooden Heart" reached #1 on the Christmas Chart.
December 1964


Col. Parker renegotiates future movie contracts with both United Artists and MGM and making deals with salary and % of profits that finally reached his goal for Elvis of $1,000,000 a movie.
January 8, 1965


Elvis celebrates his 30th birthday.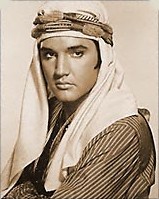 March 9, 1965


Elvis records the soundtrack and does the filming for his nineteenth motion picture, Harum Scarum, which co-stars Mary Ann Mobley.
April 7, 1965


Girl Happy openes and is the twenty-fifth-top-grossing film of the year. The soundtrack hit #8, while the single "Crying In the Chapel" hit #3.
April 19, 1965


Harum Scarum is released.
April 1965


Girl Happy opens nationally and does relatively good business. The soundtrack album goes top ten.
May 1965


Elvis records music and does filming for his twentieth motion picture, to be released out of chronology as his twenty-first, Frankie and Johnny, co-starring Donna Douglas. On May 9, 1965 Col. Parker has arranged for a special Mother's Day radio show to be broadcast on radio stations across the country.
May 11, 1965


Elvis reports for Frankie and Johnny and would be released on June 24, 1965.
May 19, 1965


Elvis' gold Cadillac will go on tour beginning in Atlanta, to promote the film Tickle Me. The song "Such An Easy Question" reached #11 on the charts.
June 24, 1965


Elvis donates $50,000 to the Motion Picture Relief Fund, reportedly the largest single donation the organization has ever received up to this date. Accepting for the organization are Barbara Stanwyck and Frank Sinatra.
July 7, 1965


Tickle Me opens nationally and although it did not chart it quickly earned back its cost and saved the Allied Artists studio from financial ruin.
August 2,1965


Elvis records soundtrack music for his twenty-first motion picture, Paradise, Hawaiian Style, which will be released out of chronology as his twentieth, then goes to Hawaii for location shooting. During a break in filming, he visits the USS Arizona Memorial. The visit is covered by the press and prompts Hawaiian Senator Daniel Inouye to have the visit recognized in the Congressional Record. Elvis returns to Hollywood for more shooting for the film.
Durin this month, "I'm Yours" hits #11 while the LP "Elvis For Everyone" is #10.
August 27, 1965


The Beatles visit with Elvis for several hours at his home in California and have an informal jam session.
September 30, 1965


Elvis completes filming for Paradise, Hawaiin Style.
October 1965


The song "Puppet On A String" released as single hits #14.
October 21, 1965


Bill Black died from a brain tumor and Elvis can't attend the funeral for fear of disrupting the service.
November 24, 1965


Harum Scarum opens nationally and hits number eleven at the box office, then falls, as has been the pattern for most of Elvis' movies during the past few years. (Hit fast, burn out quickly, but make a sizable profit and sell some records.) The soundtrack album goes to number eight and lands at #40 for the year.
December 1965


Priscilla gives Elvis the small slot car track as Elvis has been spending a great deal of time with this new hobby. The entourage gives Elvis the statue of Jesus for his new Meditation Garden.